- Cactus Juice Stabilizer -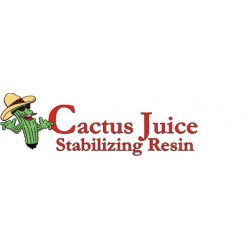 Cactus Juice Stabilizing Resin is the original premium professional grade heat cured resin for stabilizing and hardening wood and other porous material. It is especially effective on those beautiful, punky, spalted woods that are just too soft to work with!
Cactus Juice is easy to use and does not significantly change the color of most woods. It is NOT solvent based and cures 99.99% from liquid to solid by weight, far superior to typical home stabilizing solutions such as Minwax Wood Hardener or polyurethane. Stop throwing away those punky blanks and give Cactus Juice a try!
Shipping charges (Domestic & International) will be added when you choose "Shipping to" location.
Cactus Juice is non-flammable and is not classified as a hazardous chemical. International orders welcome with shipping via USPS Priority Mail International (shipped by air with approval from the US Postal Service).
NOTE: All gallon(s) and half gallon orders are shipped with the activator in a separate bottle with instructions for mixing. You will need to activate your Cactus Juice before use by simply adding the contents of the activator bottle to your Juice and shaking. Once activated, it has a guaranteed shelf life of 8 - 12 months at room temperature or longer if kept refrigerated.
---
Showing 1 to 4 of 4 (1 Pages)