- Cactus Juice Stabilizer -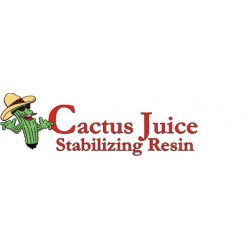 Newly revised formula! Virtually no foaming, at least 15% less bleedout, and now water clear! Same great cured properties as previous version, same cure temp and vacuum time.. This is just a formula revision, not an entirely new formula. This version will mix just fine with your existing Cactus Juice.

Cactus Juice Stabilizing Resin is a premium, professional grade, heat cured resin for impregnating wood and other porous materials to make them harder, more resistant to moisture, and to add integral color with dyes. Cactus Juice is easy to use and does not significantly change the color of most woods. It's not solvent based and can be reused again and again.
Stabilizes and hardens punky wood

Eliminates significant wood movement due to changes in moisture content

Add integral color with dyes that go through and through

1 year shelf life once activated, 3 year shelf life unactivated

Virtually no foaming-

NEW!

At least 15% less bleedout-

NEW!

Clear as water-

NEW!

Non toxic

Non flammable

Easy soap and water clean up

Reuse excess until gone
CACTUS JUICE MUST BE KEPT BELOW 85° F (29° C) AT ALL TIMES ONCE ACTIVATED. KEEP VACUUM PUMP AT LEAST 5' AWAY FROM CHAMBER WHEN IN USE. FAILURE TO MAINTAIN TEMPERATURES BELOW 85° F (29° C) MAY CAUSE RAPID HARDENING. VACUUM PUMPS OPERATE AT HIGH TEMPERATURES AND CAN EASILY CONTRIBUTE HEAT EVEN WHEN THE SHOP IS BELOW THIS TEMPERATURE.
Shipping charges (Domestic & International) will be added when you choose "Shipping to" location.
---
Showing 1 to 3 of 3 (1 Pages)